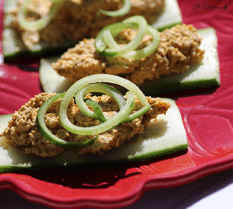 | | |
| --- | --- |
| | |
Throw everything in a food processor (except. Make sure you soak and rinse your walnuts first. Soaking your walnuts is to soften them. Rinsing your walnuts removes the enzyme inhibitors and will make your final result taste better.

Process ingredients in your food processor until it become a smooth, cream-cheese-like consistency.

Serve this walnut pate on cucumber rounds. Slice an English cucumber into chunky rounds that resemble crackers. Spread the walnut pate mixture on top.
This simple pate recipe is versatile in a raw food diet.The taste of raw soaked walnuts, rinsed of all their dust, tannins, and strong bitter flavor, is such a delight! This recipe is easy to play around with.