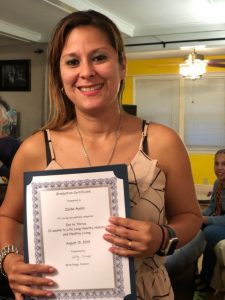 I have achieved my objectives for the Eat to Thrive program. My first objective was to eat healthier and incorporate more raw foods in my life. Since my thyroid problem began, I felt so bad, I did not sleep well and my hormone level went down radically. My new plant-based raw food lifestyle has accelerated my recovery as shown by recent blood tests. My second objective was to incorporate more exercise into my life. I now go to the gym to do Zumba on Saturdays and Yoga on Sundays. I'm determined to improve more every day and do more exercises. My third objective was to sleep better. I no longer use any pills to sleep.
The impact on my personal and professional life is that I'm going to continue promoting a healthy lifestyle and helping my own family to eat better. Also, I want to promote Health and Wellness in my fellowships in Vida Real Church. As a Family Advocate, I will bring this curriculum to families.
In the Eat to Thrive program, I felt a very warm connection with classmates who have my same medical challenges. For example, two of my classmates were talking with me that they had some thyroid problems in the past. They shared that they had the same pain in the chest as I do. I felt so grateful to hear that because I thought that nobody felt like that besides myself.
I love the demonstrations because we can learn from each other. I like the wheatgrass demonstration with Randy Jacobs, owner of Life Force Growers, who showed us how to plant our own seeds.
My plan for the future is to continue educating myself and teaching others to change their old habits of eating. I will work with my Hispanic community and teach them about a healthier lifestyle.
Thanks for the opportunity to learn about the benefits of eating healthy and how to prepare the food.
Zaida