Week 1: What is Real Food
Kids identify how many vegetables and fruits that they can name on the first day of the program. By the end of the program, they will know and taste all of them.
Each student drew a picture of himself/herself using vegetables and fruits. (Photographs taken by Christopher Rodriguez, Teacher Assistant)
Week 2: Eating A Rainbow
Marie, Marcelin (mother of Claudermelle, Marcelin) discusses the Real Kids Real Food program, especially about how the program's benefits impacted her healthy eating behavior.
For week 2 we enlisted help from the rainbow. This is a fun and helpful way to thinking of food.
If we remember correctly the rainbow colors can be memorized by the following acronym – ROY G BIV. Defined as Red, Orange, Yellow, Green, Blue, Indigo, Violet.
So let's take a trip down this colorful road – and hold tight we have a surprise color at the end.
Let's begin with the red. Red is for a healthy heart and as such we can associate it with cranberries, radishes, red peppers, rhubarb, watermelon, strawberries, and red apples. The most common vegetable is the tomato. These red fruits and vegetables lower the risk of some cancers and support heart, memory, and urinary tract health.
Moving down the rainbow we come across the Orange and Yellow section. The following fruits and vegetables offer protection from some types of cancer and may improve night vision: mangoes, squash, peaches, papaya, pineapples, cantaloupe, and butternut squash. Along with being very delicious, they promote a healthy immune system.
Green is our next yummy color. This color incorporates everything from kiwi, cucumbers, Celery, broccoli to green apples and cabbage. In order to grow strong, healthy bones these are needed as part of a healthy diet.
The last part of the rainbow is (BIV) Blue, Indigo, and Violet. As a result, you will find a varying degree of 'Blue' in our foods in this section. Blueberries, blackberries, grapes, raisins, plums, eggplants, and prunes are a good fit for this category. This part of the rainbow improves memory, reduces the likelihood of diseases such as cancer, heart disease, and Alzheimer's.
We cannot ignore the many fruits and vegetables that are white. Admittedly, the color white is not in the rainbow. So let us pretend white is the invisible layer after the last color. In this section, we will find yummy bananas, brown pear's, cauliflower, ginger, garlic, mushrooms, potatoes, and onions. These will help lower cholesterol and promote a healthy heart.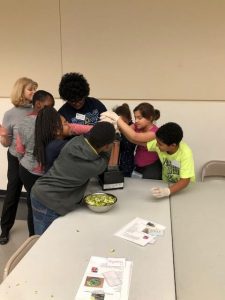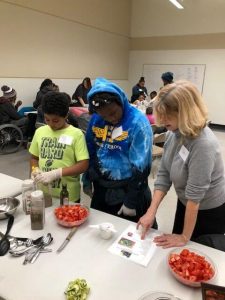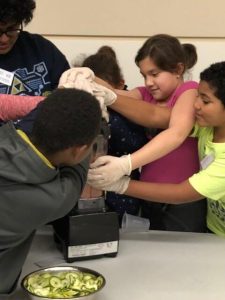 The students are making zucchini pasta with marinara sauce.
Week 3 – Real Kids Real Food
Easy Recommendations to Eating Locally and Seasonally
In week 3 at the Real Kids Real food program we explore the reasons behind eating locally and seasonally.
( Marie Marcellin on the left and her daughter, Claudermelle Gemini, follow this weeks recipe while Jewel Montini measures the Nama Shoyu (organic, fermented, raw soy sauce ).
The following recommendations will help you and your children – or anyone for that matter – eat locally and seasonally.
It's important to understand the reasoning behind eating locally and seasonally. To begin, it follows nature's pattern. Fruits and vegetables reach their nutritional peak when they need to be harvested. They also reach their flavor peak. Additionally, it is more affordable and better for your community's economy – think less gas to ship those vegetables and fruits to your market.
Pro-tips: Kale can be used year round. Farmers' markets will often have samples set out for customer. This a good way to get your kids to try new things. 🙂
Here are recommendations for each season with a mixture of fun and delicious vegetables and fruits:
Winter : bananas, beets, brussels sprouts, cabbage, carrots, grapefruit, kale, lemons, onions, oranges, pears, sweet potatoes, turnips.
Spring : apricots, asparagus, apples, broccoli, collard greens, garlic, lettuce, mushrooms, peas, radishes, spinach, strawberries.
Summer : bell peppers, blackberries, blueberries, cantaloupe, cherries, corn, eggplants, green beans, kiwi, mangos, peaches, cucumbers, okra
Fall : cauliflower, cranberries, ginger, grapes, onions, parsnips, pineapple, potatoes, pumpkins, radishes, spinach, rutabagas, and raspberries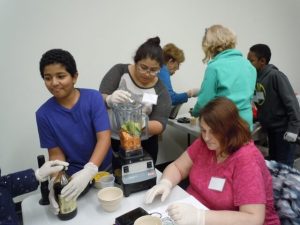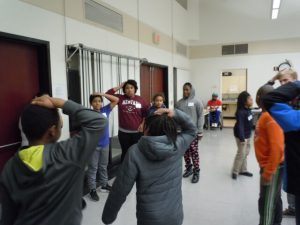 Left : Week 3 playing games – Exercise is just as important as good nutrition. Right : Josie Guerra, one of the 6 TA's instructs Jacob Rodriguez as his Mom looks on. Aidsa Rivera on the left looks on.
Week 4: Sugar Shock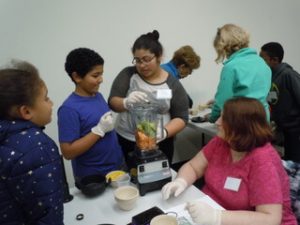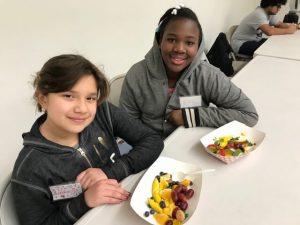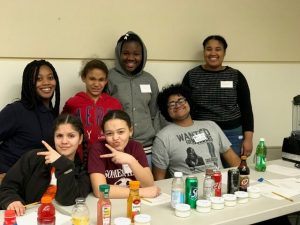 Students of Real Kids Real Food get together and learn how to make healthy fruit drinks.
Kids also participate in a sugar shock activity, which educated them about sugar contents of various drinks.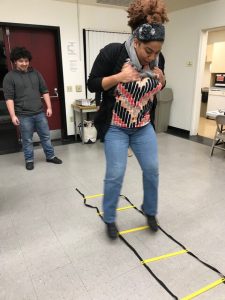 Parents and kids both participate in a fun exercise game.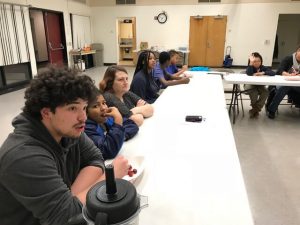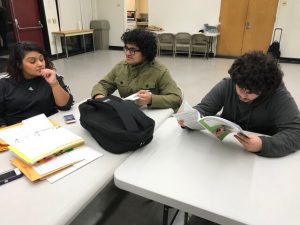 Teaching assistants gather and have a discussion for next week's lesson plan.
Week 5: Fruit Art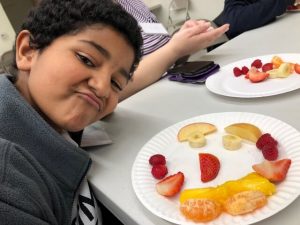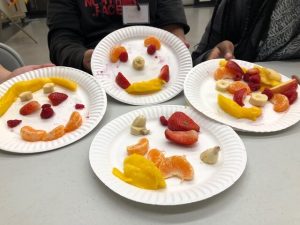 Students of Real Kids Real Food gathered to participate in a fruit art activity.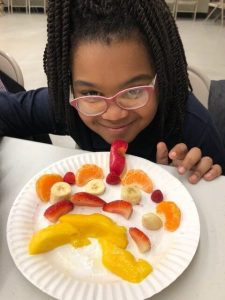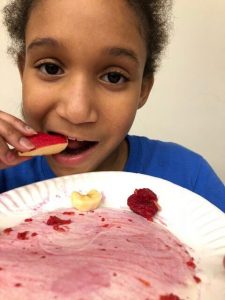 Students were educated about various nutritional values of fruits, while making a facial expression out of their favorite ones.
Week 8 Learning to Read Labels & Linguini Zucchini with Marinara Sauce"
Week 10 Worm Composting & Dehydrating Banana Chips & Flax Crackers
"It tastes like a rainbow!" exclaimed 9 year old Carlos. His smile, framed by a green mustache from his freshly-made kale, strawberry, banana smoothie, broadened in delight. "Think it might be good with spinach too?"
Carlos and his family lived in Mystic Public Housing, a low-income housing development with a great after-school program. With limited funds, they relied on cheap, starch-based foods to keep them full, but not energized.
"I was always tired so my mom took me to the doctor," Carlos explained. "When the doctor told us what was wrong, she couldn't stop crying." The pediatrician discovered that Carlos was pre-diabetic and was at risk for developing type 2 diabetes. Fortunately, Carlos attended Real Kids Real Food at the Mystic Learning Center for one hour a week. There he got the chance to learn how to prepare food while playing games and expanding his understanding of good nutrition.
"You should see the things I can make now!" Carlos says proudly. "Linguini with marinara sauce is fun—especially making the noodles out of zucchini." When it was most vital to his health, Carlos learned to love preparing fresh healthy meals, coming home from Real Kids Real Food each week with nutrition tips and recipes, eager to expand his family's knowledge of healthy eating. Together they learned how green vegetables could help change his prognosis and where they could procure affordable or free vegetables.
Three months later at his next doctor's appointment, Carlos heard the good news. "All my tests came back clear, and the doctor said I was really healthy!" Carlos beamed. "My mom cried again, but because she was so happy this time."
Carlos's success resulted from his mother and his participation in the Real Kids Real Food Program at the Mystic Learning Center in Somerville. This year's program, funded by The Staples Foundation, Real Kids Real Food Pre-Teen Program – A Fight Against Obesity and Diabetes in Children directly impacts the reversal of the shocking national trends towards obesity and childhood diabetes. In its fifth successful year, 40 Pre-Teens (ages 8-12) and 20 of their will enjoy hands-on activities regarding nutrition, local and organic food, gardening, grocery shopping, planning and preparing meals, with the ultimate goal of learning how to achieve and continue an overall healthy lifestyle. The program broadens their exposure to making healthy choices with attention to affordability and incorporates physical activities and parent involvement throughout the year. OHS has piloted this program in other public housing environments with measurable success. To learn more, please view
Thanks to the Staples Foundation for its $5,000 funding for youth to explore teaching careers, OHS is considering a number of applicants for the Teaching Assistant Position of Real Kids Real Food Preteen/ Parents Program (including past graduates of the program). OHS and Mystic Learning Center are looking forward to supporting 40 pre-teens (ages 8-12) and 20 of their parents in their pursuit of a sustainable healthy lifestyle from January 9th- March 20th, 2018. We are currently pursuing additional funding from neighborhood supermarkets to provide the groceries for the program. Last year's cost of ingredients catered to only twenty participants and we are excited to be expanding to sixty participants this year!
We are currently seeking volunteers to take the Teaching Assistants (2) to the supermarket and mentor them on how to select affordable, organic, ripe produce in preparation for the lessons on Tuesdays from 3 pm to 6 pm. If interested, please contact Betsy by writing to her at betsy@eattothrive.info or calling her at (617)835-2913.
If you are looking for a way to get more involved, join Optimum Health Solution in changing children's futures one meal at a time by launching Real Kids Real Food in an after-school program in your community. For two hours a week over the course of ten weeks, children are given an invaluable education about nutrition, mindfulness, exercise, and overall health that will last them a lifetime. You can help make real change in the lives of the children who need it most. Feel free to contact Betsy by writing to her at betsy@eattothrive.info or calling her at (617)835-2913 for ideas, tips, and advice about how to start Real Kids Real Food in your community.
Optimum Health Solution has joined the effort to combat childhood obesity by creating the Real Kids Real Food Club after-school program for low income children ages 5-14.
Real Kids Real Food inspires children to eat plant-based, organic living foods by growing and preparing their own food. Each student walks away from their weekly, after-school club with a new recipe and the self-confidence to create it at home, thus involving family members in their process. The children experience the seed-to-plant-to-fruit cycle over the school year by studying the biology and chemistry of soil and how the environment affects food growth. Visual arts, music and literature are utilized to support children's different learning styles.
After graduating as a Health Educator from the Hippocrates Health Institute in West Palm Beach, FL, Betsy Bragg became the Executive Director of Optimum Health Solution (OHS), a non-profit, in Waltham, MA. Real Kids Real Food germinated when Betsy decided to help curb childhood obesity and malnutrition by teaching to children to make healthy choices. She shared her goals with the adult students enrolled in her 10-week "Eat to Thrive" class, and they immediately volunteered to facilitate the program.
The initial program, a 30-credit, teacher-training course, was launched at the Martin Luther King, Jr., School (K-8) in Dorchester, MA. Subsequently, at the Elizabeth Peabody House in Somerville, MA, the curriculum evolved into an after-school program. This year, thanks to a generous grant from the Somerville Health Foundation, OHS will be providing the Real Kids Real Food experience to students as part of the Mystic Learning Center's after-school program.
WE WOULD LIKE TO GIVE A BIG THANKS TO ALL OF OUR FRIENDS OF REAL KIDS REAL FOOD
Mystic Learning Center
Trying to launch Real Kids Real Food in your community? Learn from those who went before you! On the following pages you will see how community leaders launched our program, successes and struggles included. Have a look for yourself!)
https://youtu.be/yIO8rvtApzk
A Typical Day: Transplanting to our Garden
Field Trip to Enterprise Farm
End of the Year Party
For the End-Of-The-Year Party, the children created their own recipes and prepared the book above for their parents. The book contains letters to the superintendent and their principals recommending healthy recipes for their school lunches. You can see the wonderful recipes that they enjoyed making during their Real Kids Real Food Club Meetings.
Presented with a bountiful table filled with fresh fruits and vegetables, the children were invited to brainstorm and create dishes for their parents.
With support from Marcus Gorman and Brian Axelrod, who led the team with program director Betsy Bragg, the children were free to create and create they did!
Many loved the idea of making guacamole: " I love touching the food," said Kaylie. They teamed up to squeeze the lemons, mash the avocado pulp and add the other ingredients, which they later put back inside the empty avocado shell. Others loved making the smoothies they have grown to love, using the Vitamix blender and an array of colorful fruit. There were also salads and a few dessert items.
Quotes from Real Kids Real FoodParticipants
Parents and children loved the gathering, which also included traditionally cooked foods. Several parents were inspired by the offer by Gorman
to create their traditional dish flavors with the raw and plant-based diet ingredients.
Week 2 Eating a Rainbow Part 1 & Guacamole with Veggies
Week 3 Eating a Rainbow Part 2 & Leafy Salad"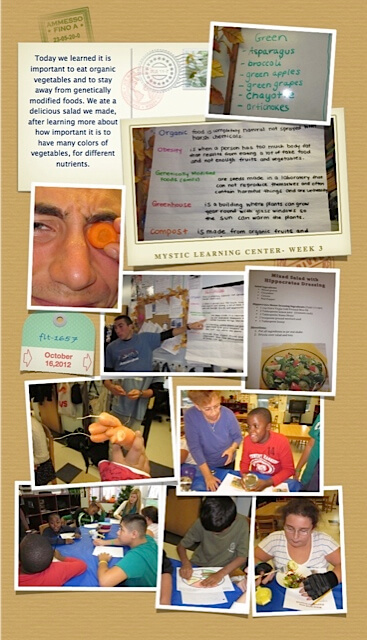 Week 4 Fun-damentals of Food Natural vs. Processed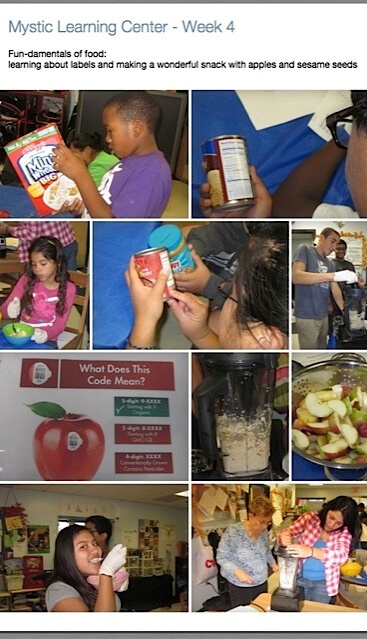 Week 5 Fabulous Fiber & Applesauce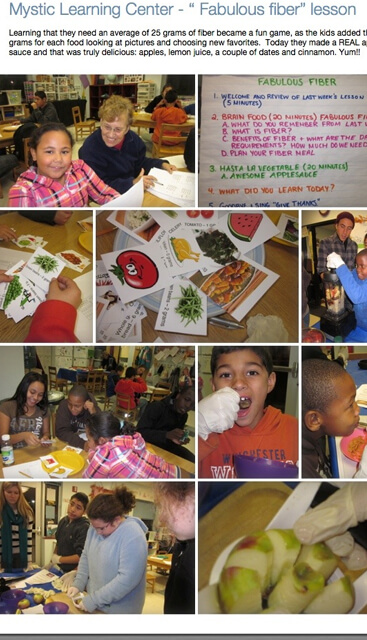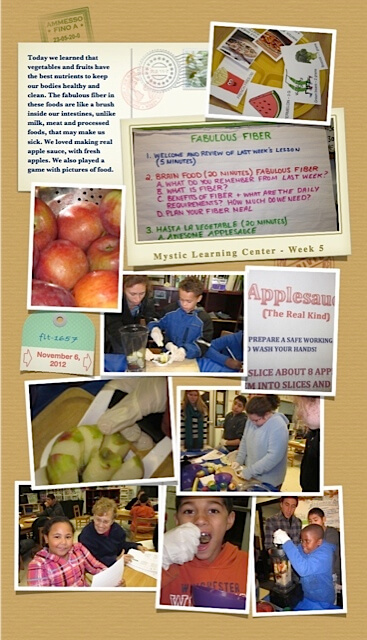 Week 6 Powerful Proteins & Kale Chips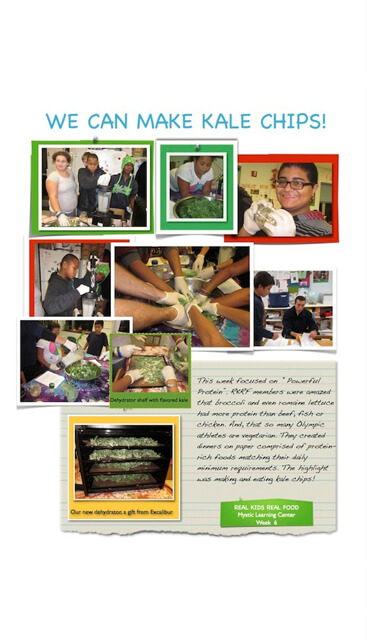 Week 7 Phat Fats & Carob Mousse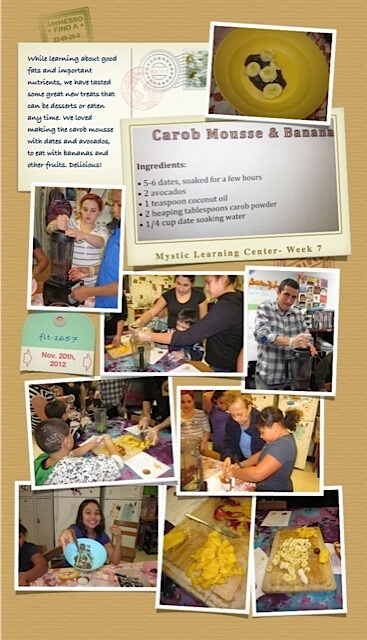 Week 8 Learning to Read Labels & Linguini Zucchini with Marinara Sauce"
Week 11 Holiday Gift Making
Real Kids Real Food Staff
Please join our wonderful group of volunteers and staff
Testimonials
Rosa, 10
My favorite thing about Real Kids, Real Food was the Family Culture Event, where families had to bring different foods from their culture. We had the event in the big room and a lot of families came. My friends Nevaeh and Ronaldo helped me make two different kinds of fruit smoothies. We put strawberries, bananas, and mango in one of them, it was so delicious. Linda brought broccoli zetti and it was so good. It made me like broccoli a lot more.
We did some really hard and fun things like trying to find apples, carrots, and ginger in our garden. We found everything but the ginger, it was under the dirt. We learned so much from Real Kids, Real Food like how to eat healthier.
Tracey Stearn -Mystic Learning Center Staff,
[/vc_column_text][vc_empty_space height="22px"][vc_column_text]I joined the Mystic Learning Center in November, coming from an after-school program in Havril. When I started seeing kids at my new program eating healthy snacks I thought it was so weird. I mean these kids were asking for hummus and fruit and didn't make sense until I saw Real Kids, Real Food come in. It started to make more sense when I saw how they interacted with kids giving healthy options and alternatives.
We got spoiled by the program at our Christmas family potluck when they provided the appetizers, which all of our family members thought were amazing.
By the springtime, I grew so attached to the program that I decided to enroll in the instructor Betsy Bragg's Raw Foods certification course. From there we started making big changes to our nutrition program. Our kids are truly enjoying eating healthy foods.
James Holton Fox-Mystic Learning Center Staff
My first introduction to Real Kids Real food was during the fall of 2012. I had just started working at the Mystic Learning Center and was still unfamiliar with the many partner organizations that were teaching classes every week. I found the focus on healthy vegan snacks refreshing in the face of processed sugary snacks and junk food that children are accustomed to.
To the children's surprise, I went for the somewhat exotic foods right away. My love of Kale chips and fresh carrots further cementing my place as a "weird" adult.
Throughout the year while working with Real Kids Real Food, I saw many children become accustomed to and enjoy many healthy eating options they may have been previously unaware of. The program introduces a culture of conscious food preparation, appreciation of healthy alternatives to common foods, and a "try it, you'll like it." attitude that is important for picky eaters to embrace. After several months I noticed children enjoying and choosing healthy snacks that they might have scoffed at the previous fall. Real Kids Real Food has helped broaden the children's culinary horizons.
I noticed that many of the children enjoyed the food preparation aspect of the program. This seemed to be their time to really shine. The children experienced lots of learning through active participation and were proud of the meals and snacks they produced.
Jacob, 6
My favorite thing about Real Kids, Real Food was making smoothies. I got to put bananas and strawberries to the blender all by myself. The smoothies were so good. I now like smoothies more than I like candy. Now I make smoothies at home. Real Kids, Real Food was so much fun.
Elizabeth Peabody House
"Eating a Rainbow" Lesson The idea of eating the rainbow colors excited the children. The children's conversation centered on how the different colors of real food indicate the many contained nutrients. They made color charts showing that different colored vegetables strengthen different parts of the body. As a snack, they enjoyed a variety of different colored vegetables and fruit: broccoli, cauliflower, celery, tomato, carrots, and grapes. They dipped them into the guacamole which they loved making.
They had eaten guacamole before but none knew how to make it. Squeezing the lemon was a big attraction. especially after it was suggested that putting the lemon half on the opposite position, not quite according to the design of the lemon squeezer, would get much more juice to come out. Marcus Gorman and Lisa Santana read the book "Fruits I love," by Valya Boutenko. On the stage on the upper floor of the old church that is today the Elizabeth Peabody House, the children divided into groups of six.
Each group planned and then dramatized all parts of the process of seed germination to show how plants grow. One narrated while others played the parts of a seed, earth, rain, sun and finally growing sprouts and bearing fruit– — something just learned from Betsy Bragg, Brian Axelrod, and Marcus Gorman.
Downstairs, each child received three kinds of seeds that they had chosen the previous week and planted them in organic pellets. They made markers for each of their plants with their name and that of the plant. Placing them under the grow-lights, they learned to water them — not too much — to make sure the seeds would be able to start to germinate and grow. They started journaling their observations of the germination process. The children said they liked having their own plants and were excited to see them grow.
With the little plants set aside, they washed their hands and put on latex gloves to create B.A.T., the snack of the day: banana-tahini with apples, a recipe from Karen Ranzi's book; "Creating Healthy Children". They learned the history, nutritional value and how and where sesame seeds grow and the origin of saying, "Open Sesame". Putting the soaked sesame seeds in the blender, they prepared tahini and added a spoonful of it into their bowl of mashed banana. Then they added sliced apples made with apple cutters. While enjoying their snack, they listened and then discussed the books: " From seed to plant" and "Living Sunlight-How Plants Bring the Earth to Life" And the plants did grow!! WOW! Not bad to start the day looking at the fruits of your labor, so to speak!
The little seeds did not disappoint and while some grew a couple of inches, at least one shot up in the air, in an amusing difference!
After a special time doing yoga positions, such as tree and sun, the youngsters sat down to learn about the importance of the soil for the plants. "Can we use the soil from outside?", asked one boy. He learned that the best option would be composted soil.
Compost is made from the leftover peels and seeds and all kinds of vegetables or the parts of the vegetables we don't usually eat. If treated carefully and often mixed with chopped up fallen tree leaves, it becomes wonderful dirt, filled with the nutrients that are rich in life-force that will be transferred to our bodies.
One big attraction on this day was to compare three kinds of soil: sand, dirt, and compost. OHS arranged to have the hard dirt removed from the EPH gardens and replaced with organic compost.
The youngsters took a special interest in looking at and comparing the soils with a magnifying glass and touching the compost, why not? With their hands into it, they learned how the special composted soil must have just the right amount of water to feed the plants. They squeezed it in their hands, as taught by Dave Anick.
A little later, with hands washed and properly gloved, they created their real food snack for the day: "Ants on a log," preparing their own walnut butter in the food processor, spreading it on bananas and covering them with raisins. Yum!
Story telling afterwards had Rachel. Plitch, reading "The Little Mouse, The Red Ripe Strawberry and The Big Hungry Bear," by Audrey Wood. to the Kindergarten & First Graders. Rachel from Shape-Up was there to bring boxes of produce to parents for only $7.00 As if planned by the organizers, the sun came out on cue and the spring temperatures made it simply perfect to welcome our real-foodists to the outdoor garden.
Under the leadership of Brian Axelrod and Dave Anick and with the help of EPH staff members, the lesson on how to bring your young plants to a place where they will get sunshine and rain became much more clear.
There was no shortage of enthusiasm, as the children placed their small plant containers directly into the beds prepared with compost.
Once all was done, they helped to unwrap the mesh wire to make special fences to keep away the small animals who might also find the garden appetizing.
And then it was time for QI Gong, a Chinese-type exercise, where they imitated the movements of different animals.
Back inside, the snack was never so great! Divided into two groups, they made a salad dressing, mixing olive oil, lemon, honey and Nama Shoyu, which is a raw soy sauce that gives a great taste to greens. Then they poured it over cucumbers, tomatoes and sunflower sprouts, which they tried for the first time and seemed to really appreciate.
So, a salad now became a very new concept: no lettuce, but a large number of sunflower greens was what they tested. And loved!
Real Kids Real Food Making Almond Milk
JoJo LaRiccia, who named our program "Real Kids Real Food," is a filmmaker who runs LaRiccia Media Productions and hosts JoJo's "DreamCart" TV for kids.