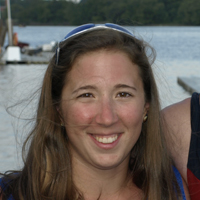 I interned with Betsy as part of the Eat to Thrive program and the Real Kids Real Food program in the summer of 2019.  I learned so much about how to eat a healthy vegan diet. It is easy to just cut out the meat, dairy, and processed foods, but to learn what you should add to your diet is not something you hear much about.
In Eat to Thrive, I enjoyed all of the guest speakers who covered topics ranging from detox to meditation, to qigong, and the lymphatic system. The class creates a great community of like-minded people who are looking to make a health change together. Each week people demonstrate raw vegan recipes to show the wide range of cuisines available to people who are just starting this lifestyle change. All of the recipes come from Betsy's numerous books or from students' research. Everything is shared with the class, to ensure that you have the tools necessary to make the switch to this diet.
I assisted with Real Kids Real Food and got to use my new knowledge to teach the next generation how to live a healthy life. With the kids, we talked about how to incorporate more vegetables and fruits into your diet. Just like the adults, the kids love getting to prepare food in class each week and sample their creations. It was such much fun to share new ingredients and recipes with the kids and see how much they enjoyed them. The Real Kids Real Food curriculum incorporates movement into each class. With kids, it is so key to show them not only how to eat healthy, but also how to support their diet with exercise.
I know that I am eating more raw vegan meals and thinking about what to add to my diet to improve it at each meal. I know that the kids in Real Kids Real Food will be doing that as well.
Katy